Peter Walker is a famous American landscape architect known for his contribution to the 9/11 Memorial & Museum, Hilton Munich Airport, Nasher Sculpture Center, and Museum Tower, among other structures.
Walker was born on July 21, 1932, in Pasadena and was raised in Berkeley, California. As a kid, Peter frequently took the train to visit his grandparents in Central and Southern California, some say that this impressed on him a defining vision of the agricultural landscape. Choosing the University of California as his training and learning ground, Walker first started in the field of Journalism, and then quickly shifted to Architecture and eventually found his heart there. After obtaining a Bachelor of Science in Landscape Architecture in 1955, he took up his graduate studies at the University of Illinois, and later earned his Master of Arts in Liberal Studies (MLA) from Harvard University Graduate School of Design. Walker won the school's Jacob Weidenmann Prize in 1957, which is an award annually given to landscape architecture students who show outstanding ability and talent in landscape design.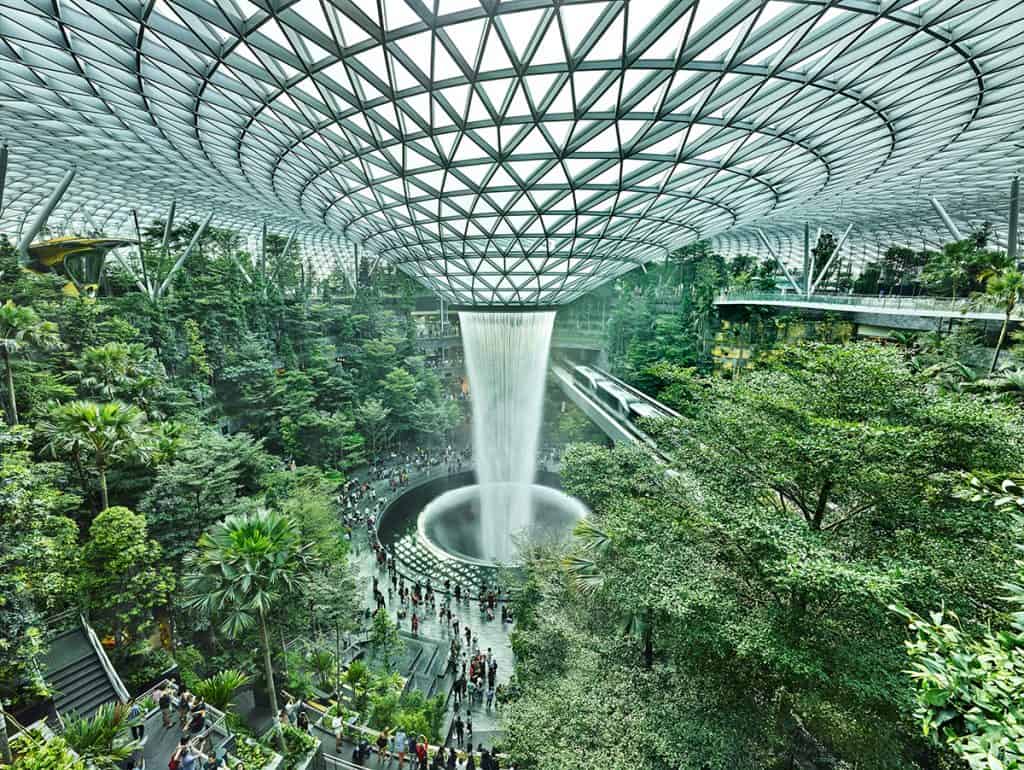 As soon as Peter got his MLA, he worked for Lawrence Halprin who was a known Modernist landscape architect. Later on, Walker worked for Hideo Sasaki, who had been a great influence to Walker since he became his professor in Harvard. This partnership eventually led to the organization of the firm Sasaki, Walker, and Associates (SWA) in 1957. In 1959, Walker opened a regional office in San Francisco and developed the firm's west coast practice. Some of the remarkable projects of the 1960s are Foothill College, Fashion Island, and the Weyerhaeuser Headquarters. In 1983, Walker left the SWA firm and went into partnership with landscape architect Martha Schwartz, who was also his wife. They married in 1979 but later on had a divorce in 2000. The couple's partnership aimed to create designs that challenged traditional notions of landscape architecture interpreted through the lens of modern art. Their firm contributed to a lot of projects for institutions and corporate offices, including their alma mater Harvard University, the University of California, Irvine Ranch, and IBM. Among the notable landscapes that they accomplished are Harvard University's Tanner Fountain and Cambridge Center Roof Garden, the Institute for Advanced Biological Research in Portland, Oregon, and the Solana Village Center in Houston, Texas. Also, even if completed by Walker's successor firm Peter Walker William Johnson and Partners, the winning design for Martin Luther King Jr. Promenade in San Diego, California (Marina Linear Park before) was submitted first by the Walker and Schwartz partnership. In 1989, they went their separate ways and established their independent firms.
Peter Walker and Partners was formed in 1983, and it is now known as Peter Walker and Partners Landscape Architecture, or PWPLA. Walker's portfolio includes gardens, public parks, plazas, corporate headquarters, university campuses, museums, memorials, and urban regeneration projects worldwide. All his landscapes reflect his knowledge and interest in contemporary art, Modernism, and other historical, cultural, and ecological considerations.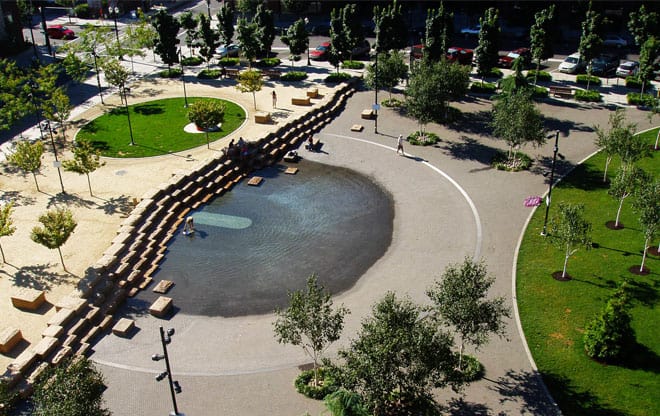 PWPLA has eventually developed into an interdisciplinary firm that employs around thirty to forty landscape architects, and has then received many awards and was recognized for a lot of its structures. One of its successes is Jamison Square which is located in the downtown area of Portland, Oregon, also known as the Pearl District. It is a one-acre park featuring a complex stepped stone wall. Three main elements are included in the park's design: a fountain, a boardwalk, and an outdoor gallery. The stone fountain metaphorically expresses the idea of an "aquifer," as water pours out of the stone steps, filling up the gently sloping ground until the water is about 12 inches deep, at which point the water drains back out and the ground is dry again. The park has been very popular with locals of all ages. The Oregonian even called it "Portland's biggest kid magnet".
Walker has even furthered his career by serving in the academic world – through different teaching, consulting, and directing positions, not to mention in a lot of institutions – and publishing his writings by founding Spacemaker Press and Land Forum magazine, and even authored a number of books. He also garnered numerous awards such as Harvard's Centennial Medal, the University of Virginia's Thomas Jefferson Medal, the American Society of Landscape Architects (ASLA) Design Medal, and the International Federation of Landscape Architects (IFLA) Sir Geoffrey Jellicoe Gold Medal.