Bring modern and mid-century design into every aspect of your life, with this curated list of my favorite Portland restaurants, known not only for their remarkable cuisine but also their eye-catching curb appeal.
Tusk
Buzzy, light-filled standout serving creative Middle Eastern fare plus craft cocktails.
COVID Restriction update: Open for walk-ups and takeout Wednesday – Sunday, 3:00-8:00 pm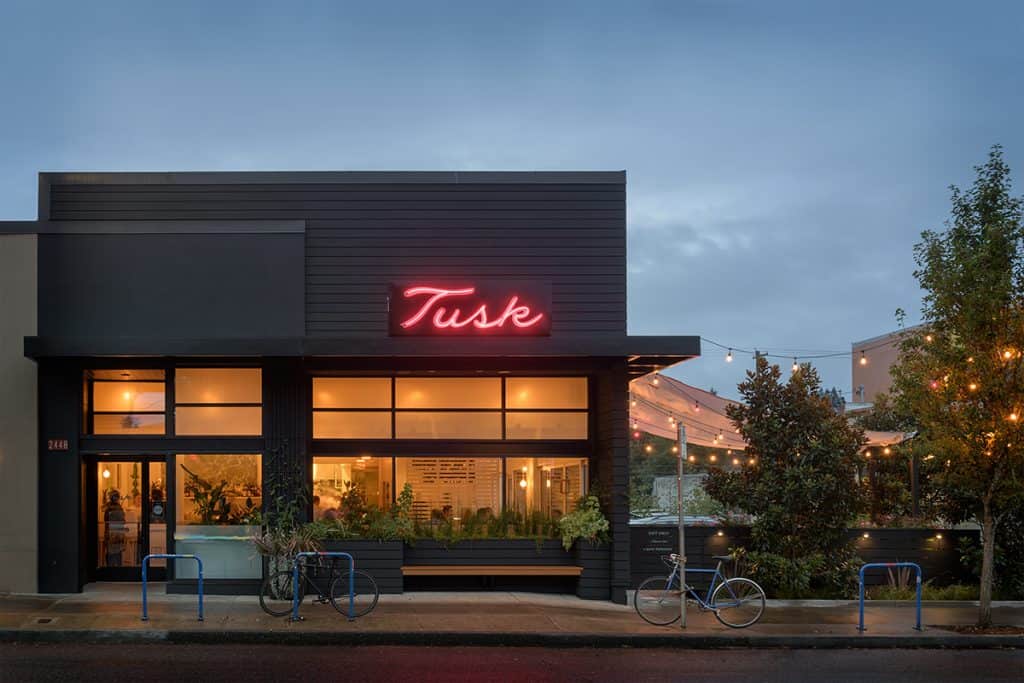 The design of this middle-eastern inspired restaurant is a departure from the traditional Portland woodsy aesthetic. Tusk (named after the Fleetwood Mac album) is a bright, fresh party of a restaurant. A meal here feels like a mini-vacation to a sunnier climate. The designers wanted the space to have a sitting-outside-under-a-shady-arbor feeling, so they designed a system of bleached wood dowels that filter the light and cast pretty shadows along the walls. The palette, in general, is pale and restrained, leaving plenty of space for the colorful art and more importantly, the bright food. A young Keith Richards, floating on his back in a swimming pool over the bar, adds to the rock-and-roll, summer vacation vibe.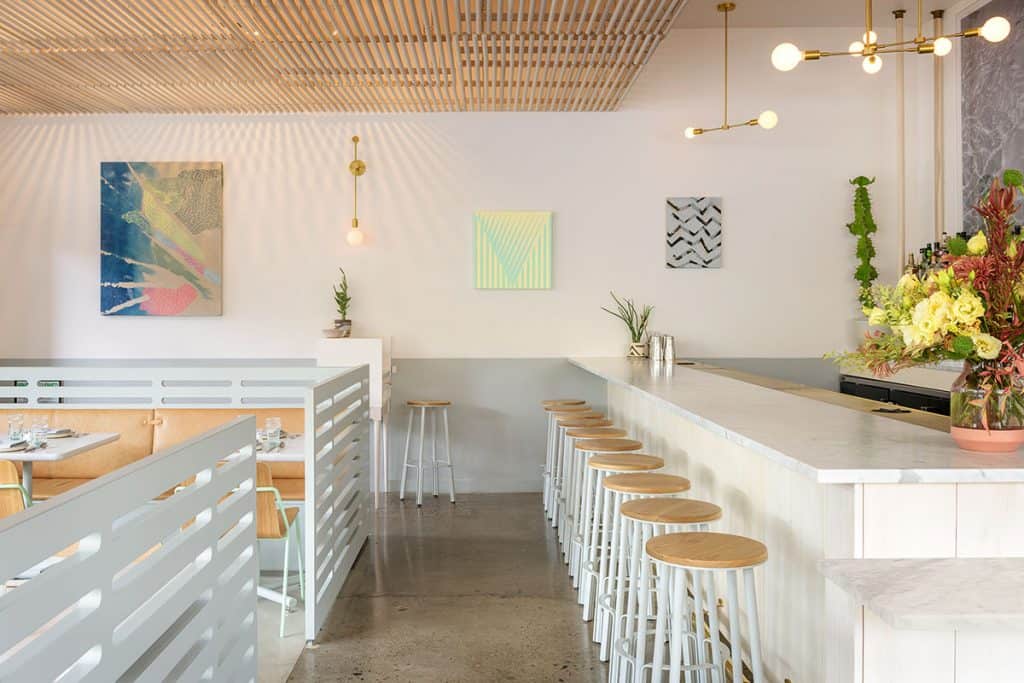 The senior designer for the Tusk project was Em Shephard. Hailing from Michigan, Em finds that her design aesthetic is strongly influenced by insights she gained while living in and traveling through a widespread list of countries. She earned her Bachelor of Arts in World Religions from Colorado College and a Bachelor of Fine Arts in Interior Architecture and Design from the Academy of Art University in San Francisco. She is also NCIDQ certified.
COVID Restriction update: Open for takeout and delivery,
Lunch hours — Wednesday – Saturday, 11:30 am – 2:30 pm
Dinner hours — Thursday – Saturday 5:00-7:00 pm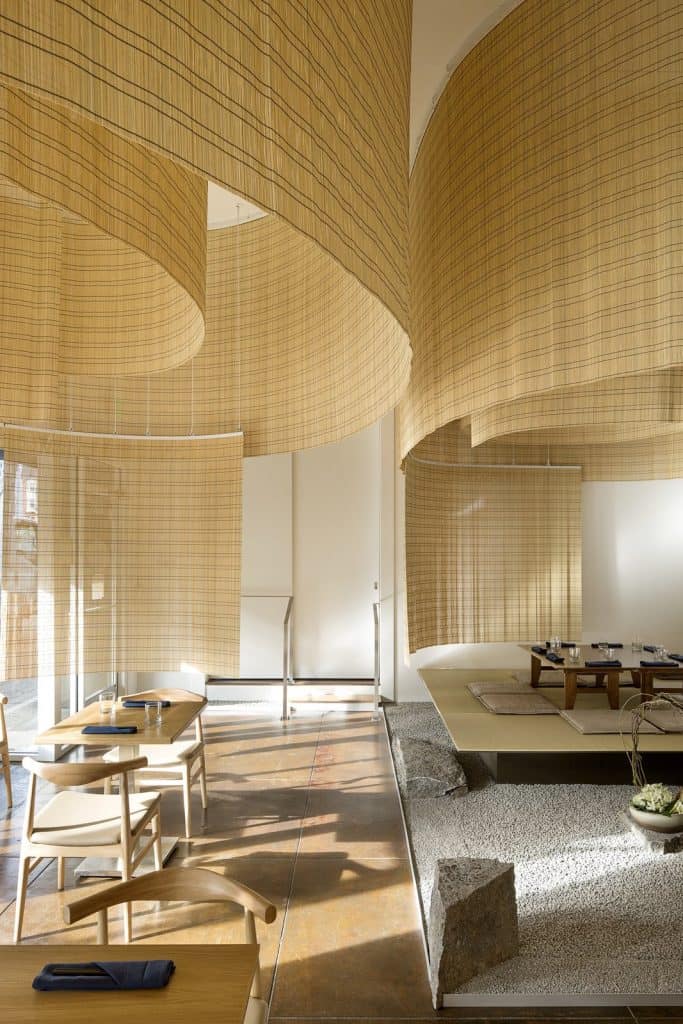 Since 2008, through a myriad of catering events of all occasions and sizes as well as signature bento boxes at their own restaurant, Chef Naoko has been serving authentic Japanese food with a keen focus on organic and seasonal ingredients that are mostly sourced locally in the Portland area.
Kengo Kuma, the world-renowned architect who is currently working on the main stadium for the 2020 Tokyo Olympics, has also been on an assignment of the renovation project of Portland Japanese Garden. During one of his trips to Portland, Chef Naoko was introduced to him through a mutual acquaintance, which led him to visit her restaurant whenever he was in town. And along with the next-door space serendipitously becoming available at the time, it eventually led to the ultimate expansion conversation with him.
Born in Yokohama in the Kanagawa prefecture, Kengo Kuma (1954) is considered one of the most significant contemporary Japanese architects. After graduating from the University of Tokyo (1979), he studied at Columbia University for two years as a visiting researcher (1985-86). In 1987 he founded the Spatial Design Studio (now Kengo Kuma & Associates) and opened his Paris Studio in 2008.
His design vision expresses the emotional content of materials, linked to intrinsic characteristics in construction and the teachings of Japanese traditions. "Almost tuning in" to the materials themselves, Kuma has for years "engaged in a serious critique of what is defined as the "concrete method of construction", in his desire to find an alternative to this material that "dominates" the world (Treccani). Projects such as the Stone Museum (2000) and Ando Hiroshige Museum (2000), both in Nasu, in the Tochigi Prefecture, the Takanezawa Plaza, Shiotanigun (Tochigi, 2006) and Suntory Museum of Art, Tokyo (2007) are exceedingly relevant to fully grasp his design philosophy. More recent, small-scale yet highly significant projects include places for meditation constructed of wood, such as the Taoist Temple at Hsinchu (Taiwan, 2018) and Meditation House, Krun (Germany, 2019).
COVID Restriction update: Open for sit-down dining and take-out, 8:00 am – 4:00 pm daily 
Proud Mary was founded by husband and wife Nolan and Shari Hirte in 2009 in Melbourne, Australia. Proud Mary offers products and services that improve the start of your day so dramatically, that it's impossible to go back to the way things used to be. At their first US location in beautiful Portland, Oregon they aim to provide an amazing and heartfelt experience for their customers.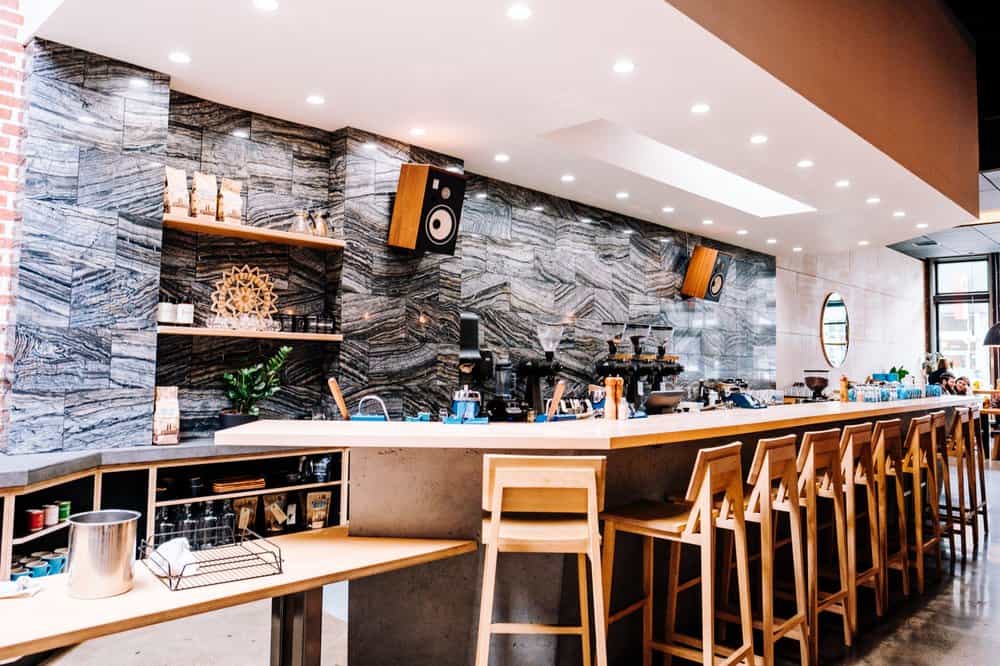 This hip Aussie-style cafe located in an industrial-chic space offering craft coffee, breakfast & smoothies was designed by Harka Architecture. Harka was founded with an inquisitive spirit and lofty objective: to create beautiful and inspiring spaces that possess the lowest carbon footprint possible while empowering their inhabitants to live environmentally responsible and toxin-free lifestyles. Using existing carbon data, toxicology information, and lifestyle analyses, their team makes informed decisions when designing spaces and specifying materials. Their designs are fun, healthy, and attractive while encouraging better and smarter living.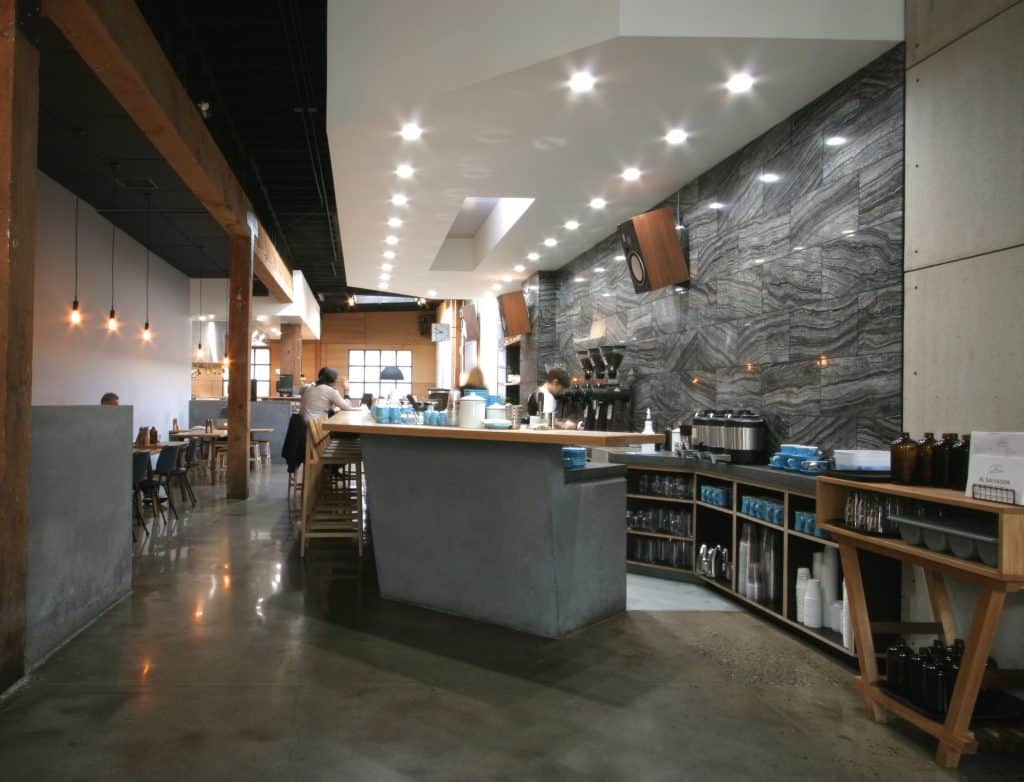 The challenge for this 2,500 square foot design was incorporating prominence and visibility for both the kitchen and the bar within a long, narrow space while still providing enough seating in a variety of configurations and room for circulation around the existing column structure. The solution takes advantage of the existing L-shaped space, allowing the kitchen to pop through to the dining area. The layout establishes nodes of different activities and dining.
For the food AND design junkie in us all – Bon Appetit!