"God created paper for the purpose of drawing architecture on it. Everything else is at least for me an abuse of paper." Alvar Aalto, Sketches, 1978
Hugo Alvar Henrik Aalto was a Finnish architect and a furniture designer. Over the span of his remarkable international career, the world saw his style transform from strict Nordic Classicism to a more International Style Modernism and finally to an organic modernist style all his own. He was a multi-talented artist, dabbling in textiles, glassware, sculpture and painting—though he always saw these practices as an extension of his architecture practice.
Born in Kuortane, Finland on February 3, 1898, to Johan Henrik Aalto and Selma Matilda and his primary education was very hands-on, regularly studying under the tutelage of local artists. His secondary education began at the Helsinki University of Technology but was interrupted by the Finnish Civil War (1918), and his enlistment. He fought the Battle of Länkipohja and the Battle of Tampere on the side of the White Army.In 1921, Aalto finished his studies and opened his first office, 'Alvar Aalto, Architect and Monumental Artist' in Jyväskylä, and began designing single-family houses. In 1924, he married Aino Marsio, an architect herself. The couple collaborated on their architectural works until Marsio's death in 1949. Aalto moved his office to Turku in 1927. It was around this time that he reached out to develop a relationship with Erik Bryggman, the city's most progressive architect. The developed a lifelong friendship and partnership and it was said that Bryggman was one of the only artists Aalto related to as an equal. Aalto's career and office steadily grew until they decided to move it back to the capital of Helsinki.
His commissions for The Turun Sanomat Building in Turku, Paimio Sanatorium, and the Viipuri Library in Vyborg, three important buildings, established his career as an architect and gave him his international breakthrough. Functionalism and straight forward design were the emphases of Aalto's early works. His design for The Turun Sanomat Building and sanatorium resembled the style of Le Corbusier and Walter Gropius, also modernist figures of Central Europe. Smooth white surfaces, ribbon windows, flat roofs, and terraces and balconies were used, similar to Gropius. Aalto was able to show his personal style in his commission for the Viipuri Library with the introduction of organic materials. Notable in the library's design was its wooden ceiling and the use of curved laminated wood furniture of Aalto's design.
By the time he completed his work for the library and sanatorium in the mid-1930s, Aalto gained world recognition as an outstanding modern architect. In 1938, he was invited to do an exhibition of his works – furniture designs and photos of his buildings at the MoMA in New York. Also during the 1939 New York World's Fair, he gained recognition for the Finnish Pavilion, a "work of genius" as described by Frank Lloyd Wright and hailed as the most beautiful interior at the fair.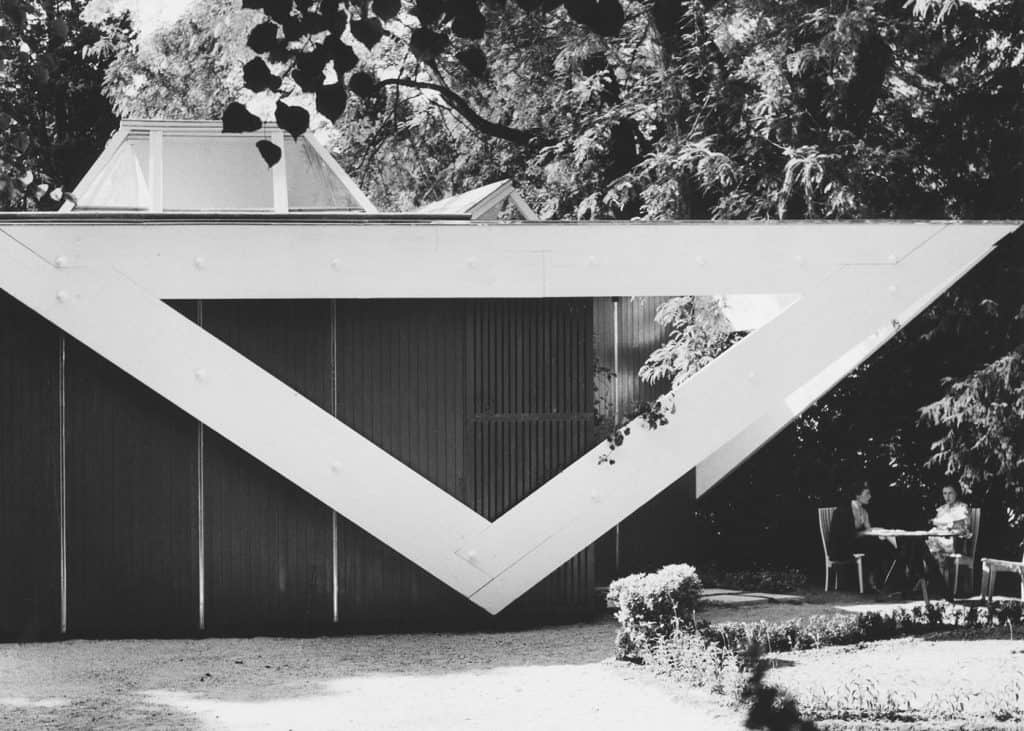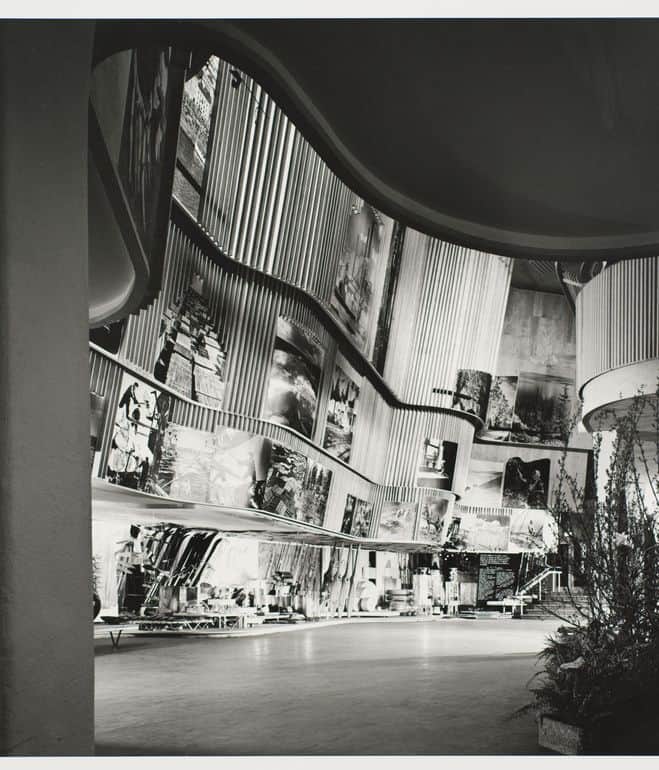 On top of being an outstanding architect, Aalto excelled in furniture design as well. In the early 1930s, he experimented with laminated wood and ribbonlike forms. His wooden designs were both functional and aesthetic. In 1935 the Aaltos formed Artek, a furniture company together with Maire Gullichsen and Nils-Gustav Hahl. The company's goal was "to sell furniture and promote a modern culture of living by exhibitions and other educational means." The unity of technology and art continues to be one of the company's guiding principals to this day.
Mt. Angel Library, Silverton Oregon
Oregon is actually one of the only structures Aalto designed in the United State. In the early 1960's, library director of the Mount Angel Abbey, outside Silverton Oregon, approach Aalto about designing a new library building for the abbey. Aalto held a lifelong love for libraries and it's told that because of the special qualities the Mount Angel Abbey site possesses, Aalto agreed to do the design for a very small fee. The library is open to the public on weekdays and is about an hour south of Portland.
—
Later in his architectural career, his projects increased in number and were more varied. From housing, church, museum to town centers. Among these were Säynätsalo Town Hall (1952), Helsinki Pensions Institute (1954), Helsinki House of Culture (1958) and the Finlandia Hall concert hall (1976).
Aalto was a member of the Academy of Finland and served as its president from 1963 to 1968. In 1957, he was awarded the Royal Gold Medal for Architecture by the Royal Institute of British Architects. He also received the Gold Medal from the American Institute of Architects in 1963.
You can dive deeper into the world of this great Finnish Architect here and here.