Portland wouldn't be Portland without Andee Hess, the native putting our city on the national map since 2007. You might have unknowingly admired her style while waiting in those popular long lines at Salt & Straw or when grabbing your favorite coffee at Stumptown.
Hess attended Portland Community College and graduated with a degree in interior design from Marylhurst University in 2003. After, she interned at the architecture firm Skylab. Her first project there as an intern was at Portland staple Doug Fir Lounge, where she put an old-school silver bead curtain at the South Bar—still hanging there today.
She worked with Skylab for four years after her internship before striking on her own in 2007 and founding her own company, Osmose. Since then Osmose has earned a reputation for creating outstanding retail spaces for local businesses as well as residential homes. Some of her clients are our city's most recognizable residents – Annie Clark of St. Vincent, Fred Armisen, and Carrie Brownstein to count a few.
What makes Osmose's design style special is that each project is tailored to the individual client. Hess enjoys getting to know her client, finding out what they like and why and how they feel about a space, etc.. Reflective of the word 'osmosis', Hess says that: "we're all about absorbing from our clients, while at the same time we are pushing to explore their boundaries." Her firm, "bring(s) to life concepts and stories. Maybe it is a brand's story of craft and culture, or maybe it's something far more personal, like their travels or how they find comfort and shelter". Their eye for unique details is seen in all their works – Ava Gene's dining room, deco geometry of House Spirits' Central Eastside tasting room, featured in Wallpaper.
One of her biggest fans is Kim Malek, Salt & Straw's CEO, who hired her to do her Portland and LA stores. Malek commented on Hess's work on their SE Division Street location, saying that "there wasn't one single decision she made that wasn't rooted in some kind of idea about who we are and what we're about and what we wanted to be". From wooden hand-carved light fixtures that look like little scoops of ice cream to custom wallpaper made of tiny panels to look like waffle cones, Hess's style reflects what Salt & Straw is all about.
Andee has been named on the prestigious design:retail's 40 under 40 list, and according to executive editor Alison Embrey Medina, is "responsible for some of the hottest restaurants and food retailers in Portland, Los Angeles, Miami, and New York". In addition, she has also won three Interior Design of the Year Merit Awards.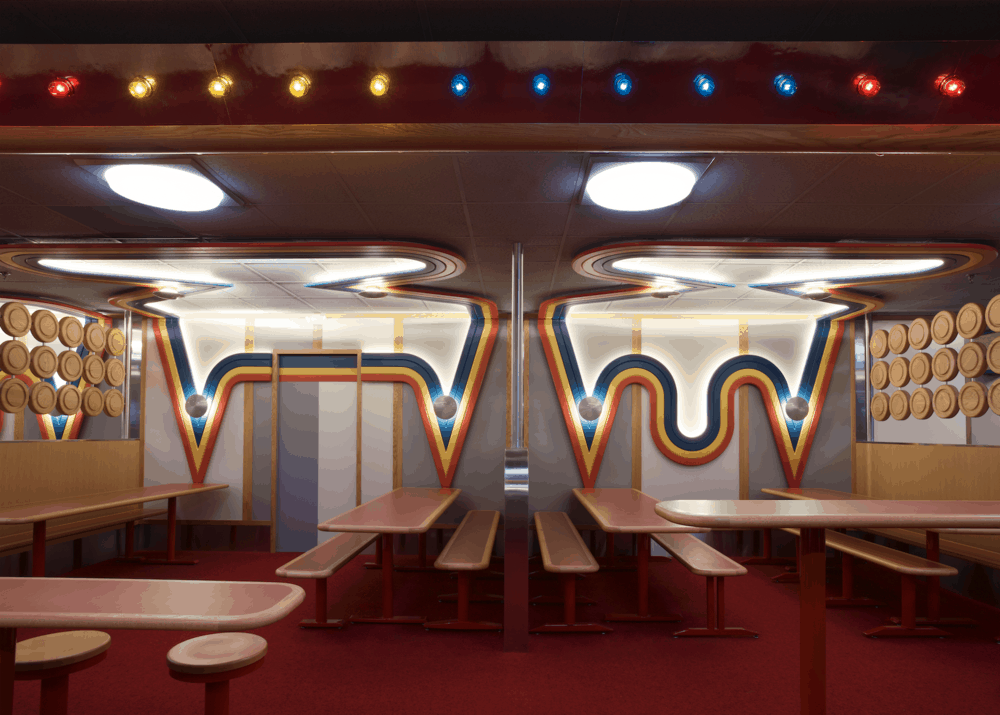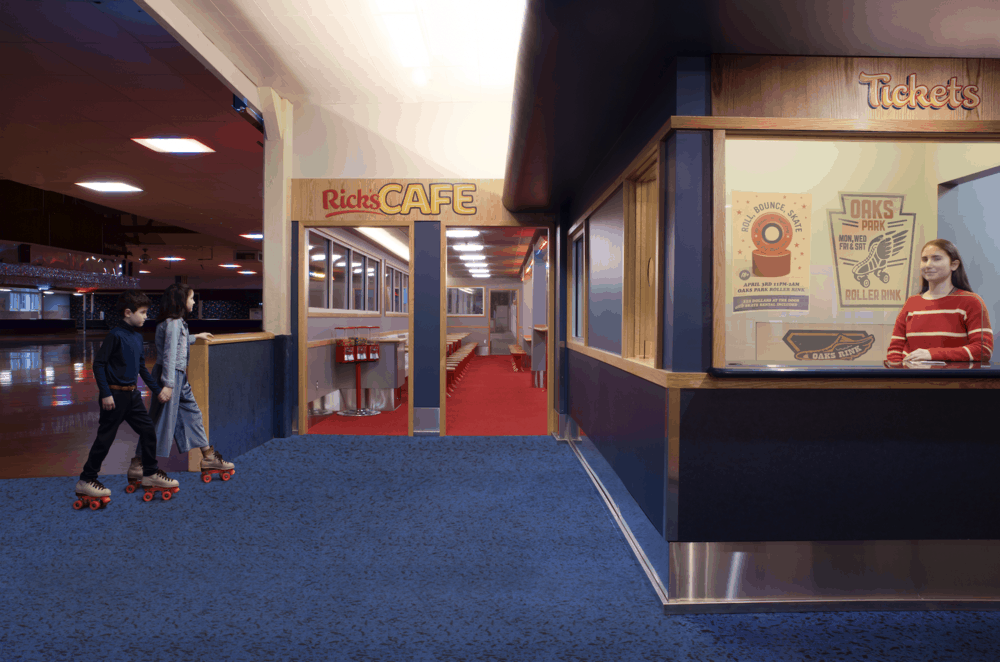 One of her recent projects is the renovation of the Oaks Amusement Park skating rink snack bar. The final result is a funky colorful design with a vintage 70's vibe, be sure to check it out here. And to learn more about Osmose Design and their projects, click here.