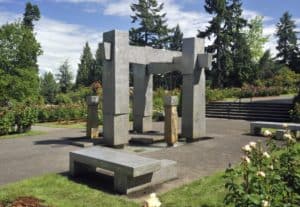 If you haven't heard his name, you've certainly seen his sculptures. Have you frequented the International Rose Test garden? Then you've likely walked under a Lee Kelly. If you've crossed the campuses of Reed College or OHSU, it's likely you've passed a Lee Kelly. His works dapple the landscape of Oregon and Washington's major destinations and have even traveled as far as Sapporo, Japan. His creations may even be in your home, as Kelly sculptures are popular features in many of the regional modern residences built around Oregon in the 20th century. He was known for collaborating with local architectural giants, such as Bill Fletcher, who would intentionally design their residences with spaces for his art. He is known as "Oregon's Sculptor" and is without a doubt one of the states greatest living treasures.
Born in 1932 in McCall, Idaho, Kelly was raised near Riggins. In the 1950's, he attended Portland State University before joining the U.S. Air Force and marrying his first wife Jeanette. After his discharge, he attended the Museum Art School at the Portland Art Museum (now known as the Pacific Northwest College of Art) in 1959. He and Jeanette had one daughter, Kassandra, before Jeanette's untimely death in 1960. A year later, he met and married Bonnie Bronson and moved to a 5-acre dairy farm near Oregon City, where he still lives today.
In a career that spans more than 50 years, Kelly has created countless notable masterpieces. In 2012, one of his most significant works, Memory 99, was installed in Portland's North Park Blocks, at the new home of PNCA. To this day, his work can be viewed in private and public collections across the country, including at the Portland Art Museum, Stanford University and the Seattle Art Museum. Kelly has been exhibiting at the Elizabeth Leach Gallery since the early 1980s and in 2010, he was the subject of a major career retrospective at the Portland Art Museum.
But you won't have to go far to see these massive corten steel masterpieces. Visit your local park, university campus, hospital or city block. In Portland you around surrounded by the visual storytelling of this living legend, and how very lucky we are.