There are arguably no designers with a wider range of influence on 20th-century design than the powerhouse couple, Charles and Ray Eames. They are best known for their contributions to architecture, furniture design, industrial design & manufacturing, and the arts. They are among the wave of innovators who successfully brought unique mid-century design to the masses through their use of modest materials and practical design.
Charles Eames was born in 1907 in St. Louis, Missouri. He developed his interest in engineering and architecture while attending Washington University and soon after began working for an architectural office. In 1930, Charles started his own architectural office where he began to extend his design ideas beyond architecture. His work earned him a fellowship at the Cranbrook Academy of Art in Michigan where he eventually became head of the Department of Industrial Design.
Ray Kaiser Eames was born in 1912 in Sacramento, California where her early passions included art and ballet. She developed a name for herself as an artist and graphic designer in New York, where she studied painting with a well-known abstract artist Hans Hoffman – whom she was attracted to because of her fascination with structure – a passion that almost led her to engineering.
Charles and Ray met in 1941 at Cranbrook and began working together – they were married the same year and shortly after, moved to Los Angeles. They experimented with wood-molding techniques and fiberglass, which resulted in a commission from the U.S Navy during World War II to produce plywood splints, stretchers, and experimental glider shells.  In 1946, they began mass production of their molded plywood furniture to great public reception. In 2001, "Time" magazine named their molded plywood chair, known now as the Eames Chair, the "Best Design of the 20th Century".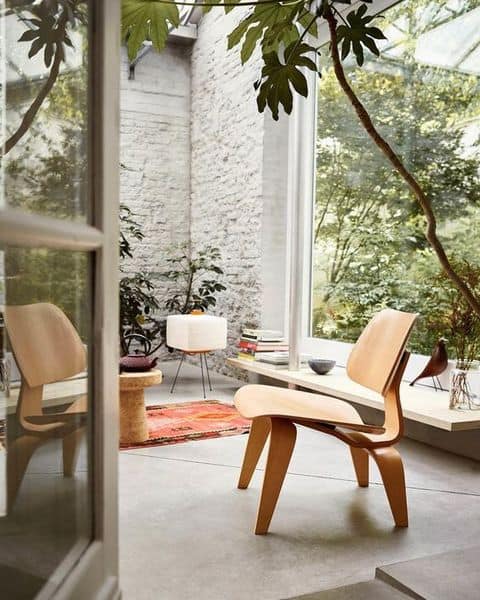 In 1949, they designed and built their own home in Pacific Palisades, California. It was sponsored by the Arts and Architecture Magazine as part of the Case Study House Program. The house is now known as the 'Eames Homes' or 'Case Study House No. 8'. Their design and innovative use of materials made it the "mecca for architects and designers from both near and far". Today, it is among the most important landmarks of mid-20th century modern architecture. You can learn more about Case Study House No.8 here.
The influence of Charles and Ray Eames extends way beyond their molded wood chairs and their home – they also made films, toys, and even created commercial seating for spaces like O'Hare International Airport in Chicago. To this day, their designs continue to be an inspiration for many objects created across the market, and the recent resurgence of Mid-Century Modernism has only added to the popularity of the Eames aesthetic.
To learn more about Charles and Ray Eames, start your research here, here and here